If you are looking for a "cloud storage" tool for your student (or yourself), then look no further than Evernote. There's a small learning curve to get the maximum benefit from its extraordinary abilities, so you'll need to invest some time to learn more about the tool. In the short time I've been using Evernote, it's become indispensable to me. Not only can I rest easy knowing I'll be able to find that one piece of information again, but I can stop hoarding papers, notes, and receipts in case I need them in the future.
Capture nearly everything: email, photos, blog posts, product information, notes to self, URL links, scanned documents, and file attachments. Capturing your information is only the first benefit; sorting and labeling your data makes retrieval a snap.
Assign tags and slot information into Notebooks. This enables you to search your database for related notes.
Automatically capture scanned documents. Think about highlighting notes received in a class, scanning them in as a searchable .pdf, and throwing away the paper. The same goes for online research, since you can clip content, tag it, stow it in a notebook, and study it later at your convenience. Many users report uploading photos taken with a smart phone.
Access your data and notes anywhere, both online and offline: on your desktop, laptop, tablet, and smart phone.
Share with others, even those without Evernote. Just send a link. It's that simple. The one caveat is that, obviously, you wouldn't want to share private or sensitive information in this way.
Collaborate. Here's where a group of students and/or teachers could join forces, contributing information about a topic or a planned event without the endless, awkward exchange of emails.
As of this writing, I've been using Evernote for about a year. That makes me a relative newbie on Evernote. This week, however, I've taken a giant step forward in my Evernote prowess by studying (and clipping) the blog posts by more experienced users.
| | |
| --- | --- |
| The Evernote Bible – The Guide to Everything Evernote, Including: Tips, Uses, and Evernote Essentials | I've also read The Evernote Bible by Brandon Collins. Mr. Collins keeps it short and to the point while offering many tips for optimizing the Evernote experience. |
| | |
NOTE: Over the holidays, I moved to a Windows 8 machine. Maybe I'll get used to the interface in time, but I much prefer the normal Windows Evernote client to the Windows 8 version. I struggled along with the Windows 8 version for over a week, and then gave up and downloaded the regular Evernote client.
Related posts:
Did You Know: How to Access Notes Without an Internet Connection
Get the most out of Evernote by Michael Stanclift
The Evernote Paperless Challenge Checklist by Jamie Rubin
Evernote Tips: The 11 Amazing Features That Make Using Evernote So Freaking Awesome by Scott Bradley (If you wish to view the video below directly.)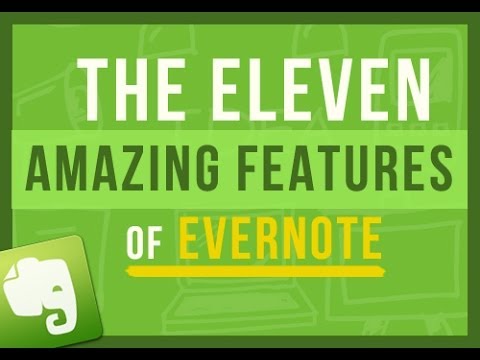 If you have used Evernote, please share your experiences below.